2003年11月19日 水曜日
by Justin Hall
On a recent mobile research trip to Korea, I had the chance to skin my mobile phone with any digital image. The choice was obvious.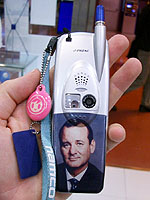 I got a picture of Bill Murray, with his sardonic puppydog gaze, hairdried onto my old J-Phone. I'd admired Bill Murray for years, because of Groundhog Day, because of his appearances on Saturday Night Live. Now the poor fellow adorns my Japanese phone. It too is Lost in Translation!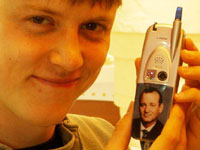 I also screened fried chicken on to my Game Boy Advance, but that's
another story
.
Posted by Justin Hall at 2003年11月19日 00:41